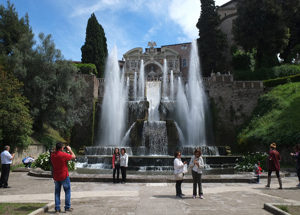 Our service offers guided tours and tourist guides to Villa d'Este and in all other places of interest located in Tivoli and its countryside.
By using our guided tours services you will have a guide enabled without having to pay the reservation fee, which is necessary for those who decide to organize a visit independently, without relying on any guidebook.
Our guided tours of Villa d'Este Gardens and Tivoli can be booked by telephone at the number
335 5733516; or by e-mail to alexitalyiloveyou@gmail.com.
Guided tour of Villa d'Este
The Villa D'Este visit duration is about two hours. The tour can be customized by choosing one of these modes:
Standard visit of Villa D'Este lasting about two hours with the visit of the palace and the garden;
Educational visit to primary and secondary schools;
Educational tours specifically aimed at the 1st and 2nd Elementary kindergarten;
Thematic tours with particular attention on the D'Este family,  thematic visits about the botany of Villa d'Este Gardens.
Our guided visits to Villa D'Este and other places of interest in Tivoli are specifically designed to be complete and detailed, which will arouse the interest of the consumer.
We are a group of tourist guides specialized in the area and graduates in History of Art and Archeology.
Tour of the other places of Tivoli
About the other places of interest in Tivoli, you can choose from the following guided tour services options:
Villa Gregoriana with the narration of the history of Tivoli and Tibur mythology. Duration: 2 hours
Acropolis historical center with temples, cathedral, San Pietro alla Carità Church and San Francesco Church. Duration 1 hour
Regarding Hadrians Villa Tours:
 Standard visit lasting about two hours during which we will visit the plastic model, the Pecile, the Maritime Theater, the Esedre Room, the Small Baths, the Great Bath and the Canòpo;
Educational visits addressed to primary and secondary schools;
A 3-hour archaeological visit to: Il Pecile, Maritime Theater, Elio Camino Baths, Esedre Room, Small and Great Baths, Canòpo. With the addition of the Golden Square, Hall of the Doric Pillars, libraries, Temple of Venus, Peschiera, Tower of Rocca Bruna, Ospitalia and Winter Palace
Thematic visits with particular attention to construction techniques.
Book your guided tour in Tivoli
From this base we try to offer guided tours that are also aimed at benefiting from the places of interest from every point of view. Walks, excursions, visits between monuments, food, and wine tourism.
We offer guided tours to Villa d'Este and Tivoli also during the day; taking advantage of its proximity to Rome, it is also possible to combine the tour with a visit to the Capital.
We offer many different ways to choose the service that best suits for your needs.
To book guided sightseeing services in Tivoli and in Villa D'Este Gardens, or just to request information, contact us at +39 335 5733516 or at the email address alexitalyiloveyou@gmail.com.